Back in the year 2000 Google started using a new tagline which I still believe is the best of any company: Don't be evil.
Those three words can define behavior, they define decision making, they define an entire culture, whether you're an employee or a user/consumer. In fact, the tagline is so good, I propose that we make it the theme of the entire endurance industry.
By simply embracing those three words - don't be evil - you can have a meaningful impact on the growth of your organization. Here's how:
SPONSORSHIP / PARTNERSHIPS

If your entire goal is just to get somebody else's money and not care what they get out of it, you'll spend a lot more time and more money continually trying to get new sponsors/partners. Eventually that well will run dry. Nobody will want to work with you.
All sponsor/partner relationships should be a win-win.
Don't be evil to your sponsors/partners. Strive for the win-win and let them know that from the start. In the end, you'll have longer lasting, more lucrative relationships.
RETENTION
According to
Running USA
, 40% of your participants are open to doing your event year over year. However, most events have an average year-over-year retention rate of only 25%. That's a full 15% of your participants that you *should* be getting back. Of all the events a person can do in a year, which one are they most likely to come back to? The answer is simple: the one that
makes them feel special
.
Don't be evil
to your participants/customers. That should be a given. But take those three words one more step and challenge yourself to figure out a way how you can
make every one feel special
, whether they've interacted directly with your team or not?
EMPLOYEE SATISFACTION
Let's face it, we've got choices where we work and for whom we work. In general, people don't like to be yelled at. They don't like to be demeaned. They don't like to be made to feel bad about themselves. Not enough leaders spend the few seconds it takes to share with their employees how happy they are with them. Don't be evil. Treating your employees with graciousness and appreciation will make them want to work harder to grow your business.
KARMA's A B****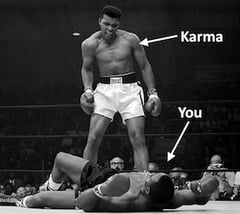 John Lennon said it best, "karma's gonna get you." We work in a small, tightly knit industry and your reputation spreads quickly. There are a handful of bad eggs in the business - people who don't follow the philosophy of "don't be evil." Most of us know who those bad eggs are.
In the history of imATHLETE and the thousands of events we've worked with, we have kicked two companies off of our site - both of which were stealing from others in one way or another. Life is too short to work with people who are evil to others. Karma's gonna get 'em.
Now how about we both stop reading and make a commitment to go out and do a random act of kindness for a random person before the day ends today. In fact, I just gave the restaurant downstairs $20 and told them to buy lunch for the next person that walks in the door.
Don't be evil.
And keep up with

our blog

for more info.
Be back soon!